Having meals, cleaning supplies, groceries, clothing and other goods delivered to our homes skyrocketed during the pandemic. And more than likely, we all had a few examples of bad delivery experiences.
Lost packages, shipping delays, inflexible delivery times, inaccurate addresses and first-attempt failures negatively impact brand perception and send shoppers back to their e-commerce sites to look for new brands. When it's easy to cancel that order and get a better delivery experience from another brand, retailers need to be at the top of their game.
A good delivery experience not only helps attract and retain loyal shoppers, but it also boosts retail revenue and profitability.
Having a package delivery management platform is one way to keep products moving and meet shopper expectations for a seamless delivery experience.
To help retailers up their game, Honeywell recently invested in FarEye, a new SaaS package delivery management platform that recently became the newest challenger in the Gartner "Real-Time Transportation Visibility Platform" Magic Quadrant to do just that: maximize efficiency, reduce operational costs and dramatically increase delivery experience.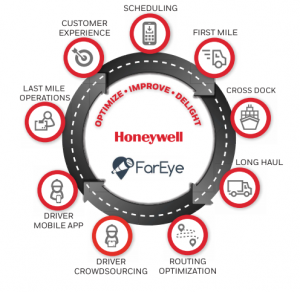 Honeywell and FarEye focus on the multi-step delivery processes from the start of the manufacturing process to final delivery on a customers' doorstep. The solution uses Honeywell mobile computers and FarEye's predictive logistics SaaS platform. The FarEye platform lets retailers manage, track and monitor delivery operations with real-time visibility across the supply chain to help improve performance and achieve new levels of efficiency.
More than 150 organizations across multiple geographies and industries already run successful logistics operations using FarEye. By tracking assets and shipments and using machine learning algorithms in order to calculate predictive data, manufacturers, shippers and transporters can achieve end-to-end visibility and accurate ETA so they always know where packages are at any given time. An integrated web and mobile platform allow retailers to deliver a superior customer experience by letting customers choose their preferred delivery options, such as timing and cost, using dynamic slot booking and feeding back all the changes into the predictive algorithms to guarantee delivery times dynamically.
FarEye's real-time dynamic routing optimizes delivery routes throughout the day by leveraging real-time data and its AI algorithms. This improves fleet utilization and reduces miles per driver, helping to assure that customer expectations are met.
Download the brochure or give us a call to learn more about building a better delivery experience.