Integration
Our longstanding relationships with OEMs and processors give us the latest insight on best practices for integration. We support point-to-point encryption (P2PE) across devices, applications and processes – including on-site key injection – ensuring the highest levels of transaction security.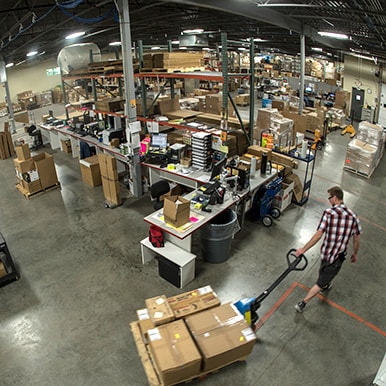 Accommodating projects of various sizes and timelines
Our corporate headquarters, along with our auxiliary warehouse facility, is environmentally controlled and offers fully configurable integration space. The facility is designed to support customization, and enables us to oversee and complete projects of all sizes and timing requirements. Our integration team routinely manages a flexible staff (over multiple shifts as required) to accommodate the specific needs of our customers and their integration plans.
ESO-certified facility
Staging
Device configuration and personalization
Software and image load
System testing
OS upgrades
Kitting and packaging
Advanced exchange
Depot services
Refurbish and disposal
Maintenance and repair
Warranty services
Asset management
Project Management
Mobile
P2PE Certified
Success Stories
A major U.S. retail chain wanted digital formatting in its electronics department to showcase product offerings. They needed a sleek form factor that could be an engagement platform for customers, as well as migration and adaptation for future concepts within store.

Direct Source was awarded the hardware procurement and the customization of Elo's 10" and 15" iSeries smart touch devices. The smart touch devices were customized to include ADA compliant headphones and install/register mobile device management software.