Installation
For more than 25 years, we've helped businesses open new stores, update existing technology, change over to new systems, deploy mobile and digital technologies, enhance security and productivity and much more. We work across the United States, Canada and Mexico to create custom deployment schedules that ensure stores are up and running quickly, with no unscheduled down time.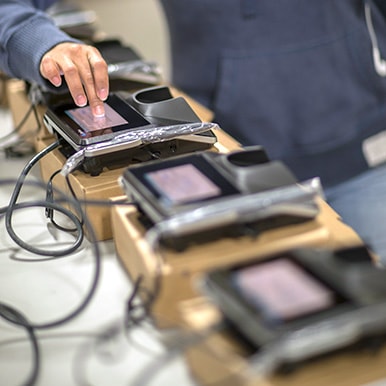 Our expert field techs complete projects on time and on budget
With our field services team, you don't need to have staff on-site for technology changes or equipment maintenance – we do it all for you and provide detailed field reports on a store-by-store basis. Our North American technician base directly manages each service with precise instruction, professional documentation and project-specific technical support, all designed with your goals in mind.
Dedicated Project Teams
On-site Technicians
In-house Help Desk Services
Online Customer Portal for Real Time Store Status Reports
Asset Tracking
Mobile Deployments
Technology Deployments
Wireless Technology
POS and Back Office
Site Surveys
Move, Add, Change
Network Infrastructure Deployments
Store Openings and Closings
Remodels and Renovations
Training and Certificates
Success Stories
A beauty retailer wanted to deploy modern POS systems to give sales associates simple, streamlined, multi-functional devices for in-store payments. To keep each store open during normal business hours, Direct Source completed nighttime deployment and installation, overseeing 25 stores per night.

All new equipment was validated on-site by field technicians, ensuring that the new systems were in full working order from Day 1. Technicians also handled disposal of all old equipment from the stores, providing certificates of destruction to safeguard business and customer data, and for future audits.