Installation
Field Resources. National Coverage. Various Skill Sets. Field Management. Tech Instructions. Process and Procedures. Pilots. Proof of Concepts. Creative Solutions.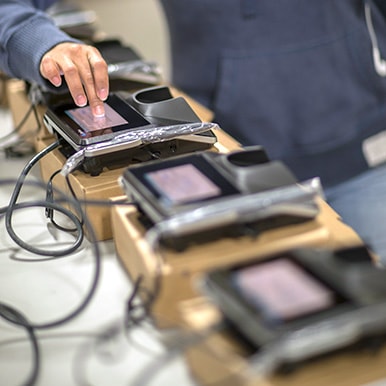 Our expert field techs complete projects on time and on budget
We work across the United States, Canada, and Mexico to create custom deployment schedules that ensure stores are up and running quickly, with no unscheduled down time. With our field services team, you don't need to have staff on-site for technology changes or equipment maintenance – we do it all for you and provide detailed field reports on a store-by-store basis. Our North American technician base directly managers each service with precise instruction, professional documentation, and project-specific technical support, all designed with your goals in mind.
Leverage Our Experience
On-site Technicians
Tech Instructions and Guidelines
Training and Certificates
National Coverage
In-house Help Desk
Real Time Store Status Reports
Site Surveys
Deliverable Repository
Hardware Tracking
Success Stories
A beauty retailer wanted to deploy modern POS systems to give sales associates simple, streamlined, multi-functional devices for in-store payments. To keep each store open during normal business hours, Direct Source completed nighttime deployment and installation, overseeing 25 stores per night.

All new equipment was validated on-site by field technicians, ensuring that the new systems were in full working order from Day 1. Technicians also handled disposal of all old equipment from the stores, providing certificates of destruction to safeguard business and customer data, and for future audits.
A wireless service provided wanted to deploy new enterprise-grade security and firewall systems over a three-year period starting in 2020 through 2021. In 2021, Direct Source scheduled approximately 1,400 stores for the new firewall install.

However, the wireless service provided wanted to speed up the deployment so that the stores slated for 2022 would be completed that year. Direct Source accommodated the request and helped the wireless service provider successfully roll out a new security management system in almost 3,000 stores.
We helped a large retailer that specializes in apparel successfully upgrade their store routers in 1,100 stores, including in Canada and Mexico. The project took about six months between February and July of 2021 and approximately 1,050 routers were upgraded.
We helped a large home improvement retailer successfully roll out new register scan guns in over 1,000 stores.