Direct Source, Safco and SYNQ Roll out BOPIS/BISPUN Smart Lockers to Facilitate Secure, Contactless Self Pick-up
MINNEAPOLIS, December 14, 2021 – Direct Source, a tier-one retail technology services and solution provider, Safco, a workspace furnishings manufacturer and SYNQ, an innovative technology company, have come together to deliver smart in-store contactless product retrieval lockers. Designed for retail customers who want a fast and easy self-service transaction experience, the multi-use Smart Locker Systems allow shoppers to order online or in-store, retrieve their products or services from a secure locker and make contactless returns using their smartphone, with no app required.
Direct Source, Safco and SYNQ are using their combined expertise aimed at modernizing the in-store experience for today's shoppers by creating a convenient and contactless shopper touchpoint. Lockers can be placed either inside or outside the store for easy access and come in a variety of sizes to fit various retail footprints.
"Labor shortages, crowded stores, long lines at check-out, and health and safety concerns are issues plaguing the retail industry," said Brad Fick, president of Direct Source. "Our partnership with Safco and SYNQ allows us to give retailers a competitive edge by deploying smart lockers that streamline the product retrieval and checkout process and help alleviate employee pain points."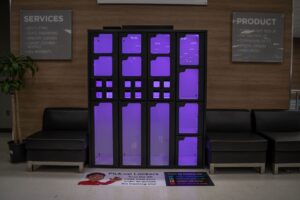 The smart lockers integrate with back-end point-of-sale information, inventory management and distribution systems to help store associates easily view orders, track and load approved purchases into a locker. Customers can open the lockers via their personal smartphones for a fast and seamless check-out process.
"For retailers, in-store lockers help reduce costs associated with fulfilling and shipping online orders, with the added benefit of bringing shoppers into the store where they may choose to make additional purchases," said Shawn Green, vice president of product and marketing of Safco.
"Smart lockers are ideal for high-value items that should be secured — yet easily accessible — for customers who want a fast, easy pick-up experience," said Justin Young, dealer of Canadian Tire Hillside Victoria BC. "Adding smart lockers alleviates wait times at the customer service desks that have traditionally been used for customer pickup. Now, these associates can focus their attention on customers that need immediate help within the store. As a result, store associates can maximize productivity and efficiency, which is crucial with the labor market sensitivities we are facing."
"Traditional BOPIS lockers were single-use appliances and nothing more than a post-office box, meaning we couldn't validate the return on invested capital," said Nolan Wheeler, CEO of SYNQ. "This led to the realization that the initial locker concept was flawed and a prison of products. It was time for modernizing the lockers from single use to multi-use to support retailers and customers. These smart lockers enable BOPIS (buy online, pick up in-store), BISPUN (buy in-store, pick up now), service, vending and returns – a new-use case that resolves one of the greatest frustrations in retail."
Designed for easy use by both retailers and customers, companies are embracing smart locker systems to help deliver a tailored and convenient retail experience. They are ideal for pre-ordered and pre-paid purchases, equipment rental and services, and will help combat current retail challenges. Home goods, hard goods, discounts, apparel and other retailers are adopting smart lockers in order to free up valuable associate time and provide a quality purchase experience. Through integration and automation, shoppers know when their item is ready for pick-up and retailers know when each item has been retrieved, making the transaction seamless.
# # #
About the partnership
Multi-use automated and touchless smart locker systems are an easy installation leveraging the smart locker furnishings from Safco, security and access systems technology from SYNQ and professional installation and integration by Direct Source. For more information, contact Direct Source at sales@directsource.com.
Media Contact: Amy Fisher, 612.805.5707, amy.fisher@PadillaCo.com
All trademarks and registered trademarks are the property of their respective owners in the U.S. and/or elsewhere.